Tuesday, February 27, 2007
Spring page 2
Spring has sprung and its bug time, keep spraying Shaunna, get 'em all *scheming mind reeling*
Why yes, its rain… silly sim, get out of the rain before the lightening strikes!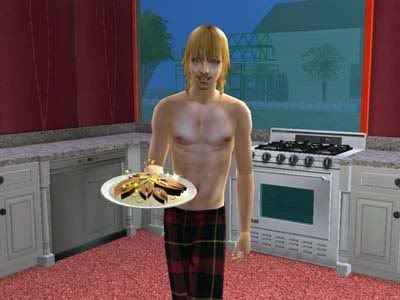 Winter, you never looked so happy before. It must be the coziness of being indoors and not stuck out in the rain.
Oops lightening has struck one of the garden ornaments… well it is made of rock and metal, so no big surprise I suppose except that it missed the trees and went for that instead.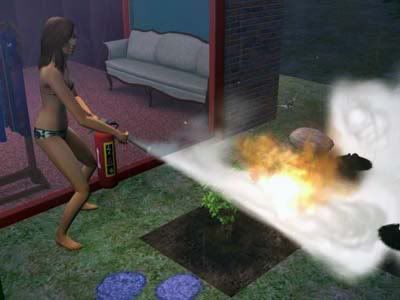 Careful Shaunna, don't get burned! I wonder if that will harm the plants… save the plants Shaunna, save the plants! Whew, you stink, go shower. Um I mean, good job saving the plants. *waving hand in front of face, holding nose*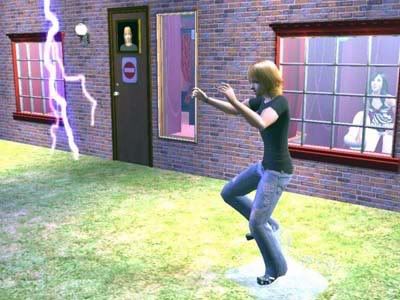 What in the world? Oh wow nice shot! I saw Shaunna go to do the 'It's raining' thing again and I also noticed Winter was splashing in the puddles so I paused for a picture and what do I see? Oh yeah, that was a close call!
So its raining and Spring is crashed out in the bed… I wonder how safe he is under there and if he's getting wet like the snow still covers everything…
Nope! You go under here and it looks like it stopped raining. Well this is a good sign, at least the roof works for rain.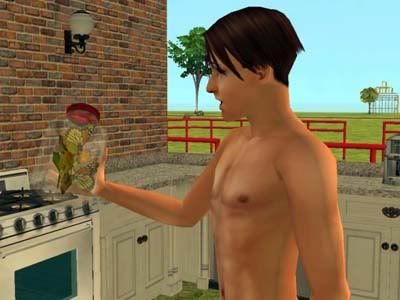 Hey you got the butterflies for me!
Spring: Think Shaunna will like them? They're awfully pretty.

No, she's pretty in to this nature kick right now… I think you should let them go.
Spring: That's a good point, they'll just die in the morning like the fireflies did. Fly butterflies, fly and be free!
Things are heating up with these two. They both needed some aspiration points, so I let them have a date… and things really heated up… no I don't mean to say they Woohoo'd, I mean they both over heated and I had to cool them off in the pool! Weird, front yard dates now lead to overheating… seriously, I tested it again and it happened again. Even a date in the house ended up over heating the couple. I wonder why… I'm sure someone with a book could tell me. *ahem*
page 3 >>
Comments:
What? No way!! Dates can over heat you...LSHICB!!! What will Maxis think of next?
Phew I was worried for a minute that we were going to lose poor Winter. NICE pic tho!
I am on the edge of my seat...when I go on to page 3...I wonder what I will find??!!
Post a Comment
<< Home