Saturday, March 03, 2007
Starting out
Testing 1, 2, 3
Are we on? Okay... hey there... so here we are... on the usual 3x3 empty lot. The concept of this mini-test / challenge of sorts is 2 fold.
1. Create 4 sims. Have one live on the lawn for each season and survive!
2. Once it is their season again, see if we can get the elements to take over and they die.
Since money is not part of the equation here, I went ahead and did the money cheat and none of the guys are working. Come to think of it, maybe I should have had the test subject work as part of the test... huh.. well I'm not done playing so maybe during their second round they will get a job for their lawn time. Anyhow, here are my four test subjects and Shaunna. Um, why Shaunna? Well, we were playing dress up. I uh, never mind... bottom line is I needed her to be here for a while. Let's introduce the lucky test subjects.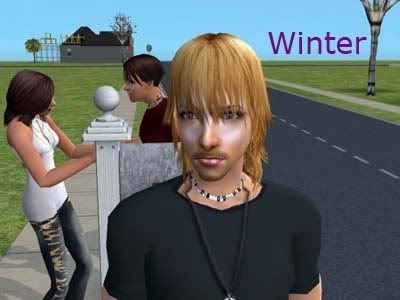 First up is Winter. This is our first season, so he will camp outside first.
Second we have Spring. My daughter says he is a Lance look alike... I suppose since they have the same hair cut, but to me that is all they have in common.
Third we have Summer. Rather quirky looking guy. Not bad looking per say.. just... quirky.
Last is Fall, he's a ruggedly handsome brooding type of man. I love his dreamy silver eyes and... um moving along...
So here they are, all ready to take on the elements of seasons and see if they can survive and die. Okay so they didn't sign on to die, that was something I decided to do half way through winter when Shaunna... um, never mind you'll see... So on to the house?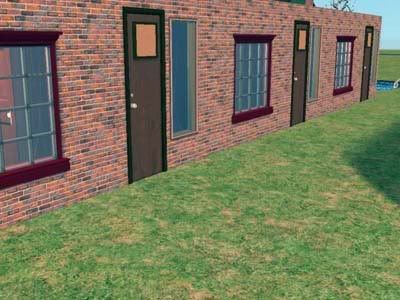 I created three apartments with dorm doors, one for each guy to lock once they got inside... easier to keep the lawn dweller out of the house. Inside each apartment there is a bed, a bathroom and a desk with computer, attached to the apartments is a communal area with kitchen, pinball, couch and out back I later added a small greenhouse. Let's go peek in the window and see if we can see anything shall we?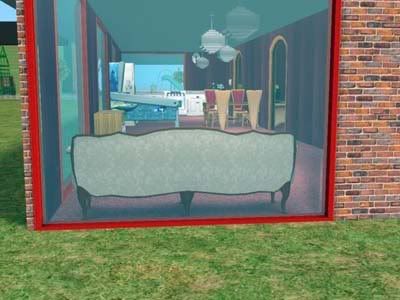 This is the back room that connects all of the apartments, its the kitchen/community area.
Here is one of the apartments, they're identical so no need to see the other two.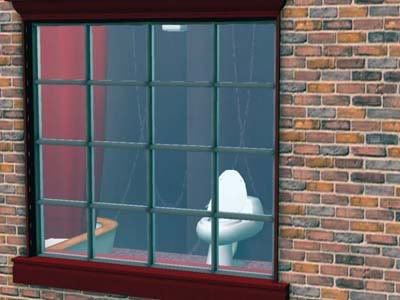 Here is one of the bathrooms, simply a room with toilet and full bathtub.
And here is the lawn guy's domain. The shadow is simply a roof that I manipulated to be there. I made walls, added a roof and then removed the walls, leaving the roof magically suspended. Once I started playing I realized I needed some type of heating element, so I added that rough looking fireplace. I forgot the name, but you will see it later.
I like the new rounded edges of the pool. I realized my mistake in placement, so eventually that back ladder is deleted and the diving board is moved to the back.
How fun! I have the small ice rink for now, and later once it warms up we'll have the roller skating rink out. The guys like it. They are out there often and Winter is pretty good now.
Oh here is an aerial view of the lot. As you can see I added the rink after the shot. Also later you'll notice I decided to add a pond on the left. It is wicked deep and they were able to fish a bit before it froze over.
1st Season - Winter >>