Saturday, March 03, 2007
Starting out
Testing 1, 2, 3
Are we on? Okay... hey there... so here we are... on the usual 3x3 empty lot. The concept of this mini-test / challenge of sorts is 2 fold.
1. Create 4 sims. Have one live on the lawn for each season and survive!
2. Once it is their season again, see if we can get the elements to take over and they die.
Since money is not part of the equation here, I went ahead and did the money cheat and none of the guys are working. Come to think of it, maybe I should have had the test subject work as part of the test... huh.. well I'm not done playing so maybe during their second round they will get a job for their lawn time. Anyhow, here are my four test subjects and Shaunna. Um, why Shaunna? Well, we were playing dress up. I uh, never mind... bottom line is I needed her to be here for a while. Let's introduce the lucky test subjects.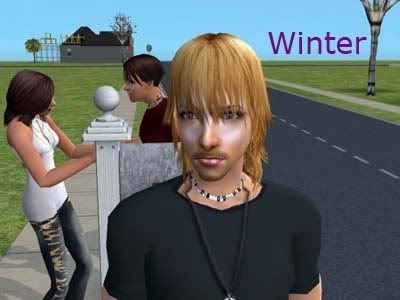 First up is Winter. This is our first season, so he will camp outside first.
Second we have Spring. My daughter says he is a Lance look alike... I suppose since they have the same hair cut, but to me that is all they have in common.
Third we have Summer. Rather quirky looking guy. Not bad looking per say.. just... quirky.
Last is Fall, he's a ruggedly handsome brooding type of man. I love his dreamy silver eyes and... um moving along...
So here they are, all ready to take on the elements of seasons and see if they can survive and die. Okay so they didn't sign on to die, that was something I decided to do half way through winter when Shaunna... um, never mind you'll see... So on to the house?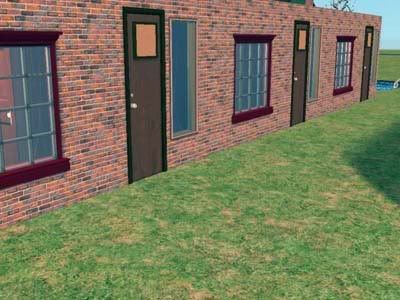 I created three apartments with dorm doors, one for each guy to lock once they got inside... easier to keep the lawn dweller out of the house. Inside each apartment there is a bed, a bathroom and a desk with computer, attached to the apartments is a communal area with kitchen, pinball, couch and out back I later added a small greenhouse. Let's go peek in the window and see if we can see anything shall we?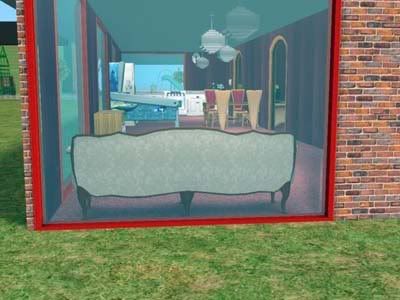 This is the back room that connects all of the apartments, its the kitchen/community area.
Here is one of the apartments, they're identical so no need to see the other two.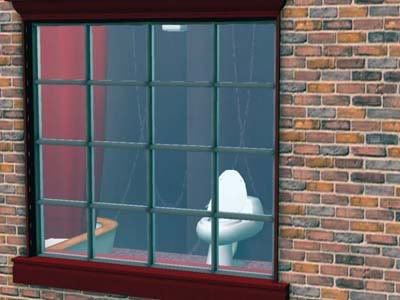 Here is one of the bathrooms, simply a room with toilet and full bathtub.
And here is the lawn guy's domain. The shadow is simply a roof that I manipulated to be there. I made walls, added a roof and then removed the walls, leaving the roof magically suspended. Once I started playing I realized I needed some type of heating element, so I added that rough looking fireplace. I forgot the name, but you will see it later.
I like the new rounded edges of the pool. I realized my mistake in placement, so eventually that back ladder is deleted and the diving board is moved to the back.
How fun! I have the small ice rink for now, and later once it warms up we'll have the roller skating rink out. The guys like it. They are out there often and Winter is pretty good now.
Oh here is an aerial view of the lot. As you can see I added the rink after the shot. Also later you'll notice I decided to add a pond on the left. It is wicked deep and they were able to fish a bit before it froze over.
1st Season - Winter >>
Friday, March 02, 2007
Winter's time
Okay Winter, are you ready? Oh don't give me the puppy dog eyes, I'm not a nice simmer and it wont work on me.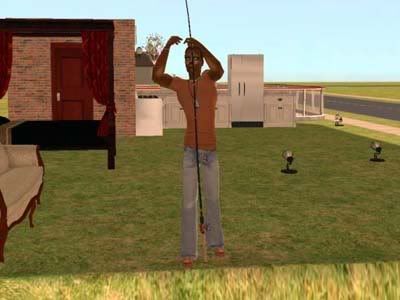 Right about here is when I added the pond. First to fish is Fall. He's awfully cute.
Watching the fish swimming around... he did manage to catch one but by then I was distracted else where... I am not big in to fishing IRL so watching a sim fish wasn't exactly my idea of fun either.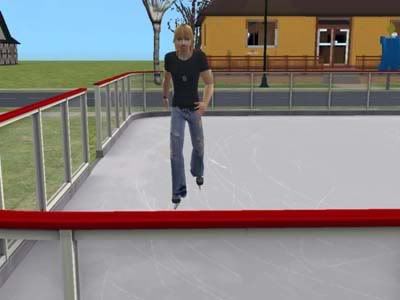 I was busy watching Winter skate. You go boy, let's see you do something other than skating around in a circle.
Nice moves! And he pulls it off without a hitch! Kudos to you Winter.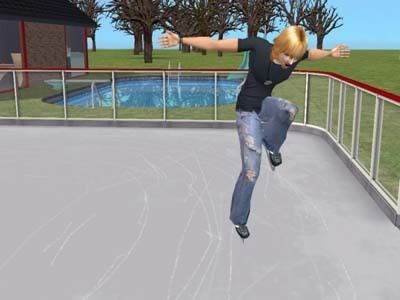 Oh let's not show off now. Geez, he wont get on the ice without doing twirl after twirl after.. whew I get dizzy watching him, so I stopped watching him. heh!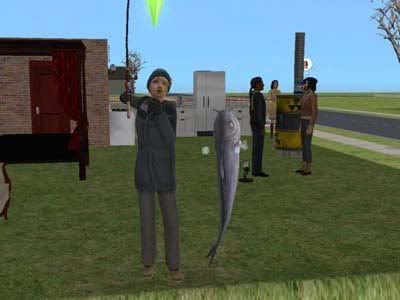 The pond is almost frozen over and I thought.. let's try for another fish! This time I got to see him catch it! Nice one Winter, the welcome committee is here.
Shall we keep him? Yeah, we kept him. Although now thinking back on it, I should have kept it in his backpack. Darn it.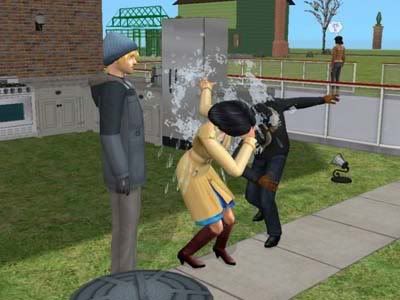 Okay the beginning of winter is probably not the best time to play water balloon fights.
So he tries playing catch instead. Only neither he or Spring can catch worth a darn!
Oops and there it goes, the pond is now frozen over.. didn't take long and it hasn't even snowed yet, gosh it must be pretty darn cold out there.
Um, what is wrong with this picture? Yup, she is part of the welcome wagon and is still here... wearing a bathing suit in the freezing cold and a dang wolf is digging a hole.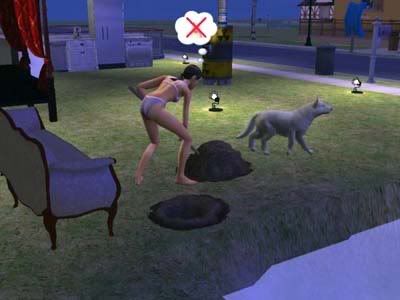 Oh she was waiting for him to finish.... never mind, come visit anytime!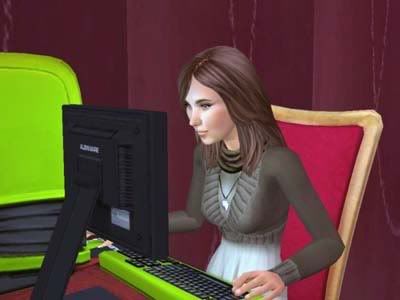 Okay Shaunna time to move out. Your part of this is done... um what's wrong?
Shaunna:
I don't want to go.
What do you mean you don't want to go?
Shaunna:
It's so much fun here! I don't have to clean, I don't have to cook, I don't have to work... What more could a simwoman want?
Okay... but its a challenge house of sorts. That means you have to contribute somehow. What will you do? There isn't a season for you to sit out on the lawn.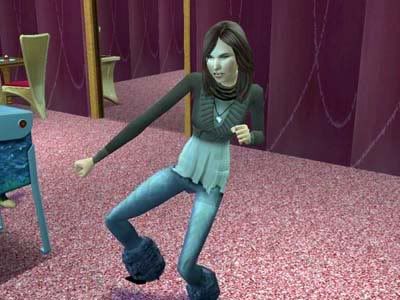 Shaunna:
I can entertain the guys!
Okay... um, that isn't quite what I had in mind... woah, wait... wait... are those leg warmers? *snickering* I liked the outfit at first, but the leg warmers... I can do without those.
Shaunna:
I can keep their spirits up! They need a friend to pelt them with feathery pillows.
Still not what I had in mind...
Shaunna:
I can keep them company... um, well no.. *yawn* not quite like.. you know, we're just... *zzzzzz*
Uh huh... so Shaunna has a real thing for Spring... so far their relationship is still platonic... I haven't told her he is destined to die... and I think its better if I don't tell her. Anyhow I found something for Shaunna to do to contribute.
Shaunna:
*humming to herself* Stinky compost, goes on the ground... makes the plants all happy and sound... doo be doo *humming*
I'm secretly hoping she turns in to a plant person later. I know, I know but its still winter time and I want her to practice with the plants and work that skill of hers up.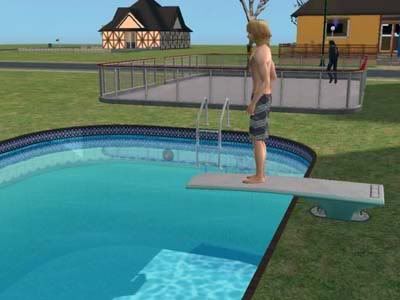 Oh hey Winter, now is not a good time to be jumping in to the pool buddy... uh Winter?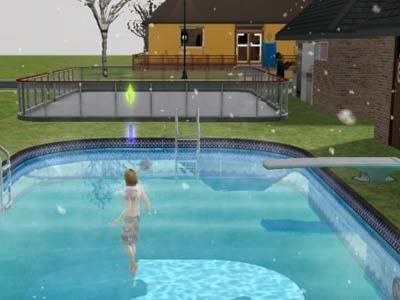 Geez, see Fall back there? He's doing the *It's snowing!* thing... I had to click him to get him out of the pool. Who knew it was heated? Well I didn't... he still ended up cold, but not nearly as bad as I had thought he would.
I love Summer's reaction. He ran to the window. He's so excited, and he isn't the only one!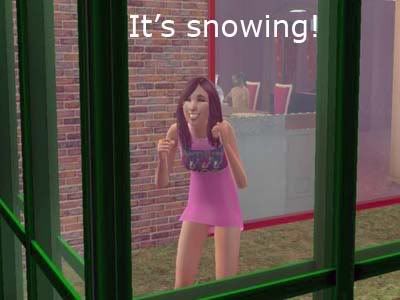 I'm guessing the RL Shaunna doesn't get this excited about snow. *giggle*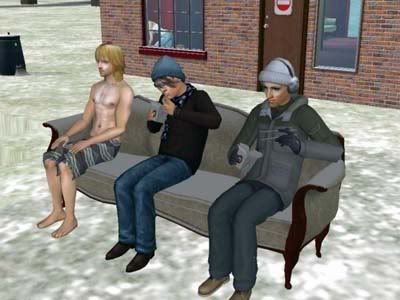 So its been snowing off and on for a few days and Winter can't seem to stay out of the pool. Maybe I should have built it after winter was over. Oh well, I'm not about to create pools and then ditch them every time its winter... that will get too expensive!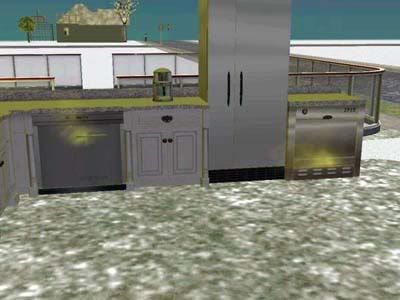 So both of Winter's appliances broke with the first snow. Almost forgot about that. I wonder if that is directly related to them being outside... considering they only broke the first time, I'm guessing it was a fluke?
Great now Spring is in the pool. Yup, this is when I realized he got in to the pool because he couldn't walk around the diving board. Oops on my part. I did eventually fix that problem.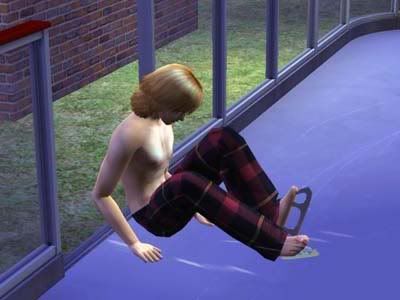 Okay this had me laughing. Winter loves 2 things: swimming and skating. Has a lot to do with boredom, not much else for him to do out here. I just thought it was funny that he didn't bother to change out of his pajamas to skate and the blades are on his feet!
page 2 >>
Thursday, March 01, 2007
Winter pg 2
Run Shaunna.. huh ... I think I have the pictures backwards some how... cause Spring here was chasing after Shaunna cause he wanted to have a snowball fight. Only by the time he got in to the water and out of the water she was in the house. See, once she decided she wasn't leaving, I had to add a side dorm door for her to enter or she too would be stuck out on the lawn. Anyhow as you can see, its our first deep snow. Time for some snow fun!
Shaunna and Winter worked hard on this snowman. They did a grand job, but Shaunna was out side for much too long. We almost lost her. I finally got her inside to warm up.
Nice job on the snow man. What a lovely view...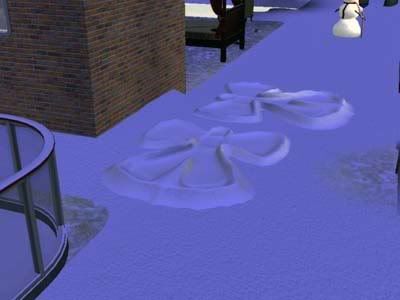 Having never seen them, my daughter requested snow angels. So Spring and Fall obliged her whims and here are their results.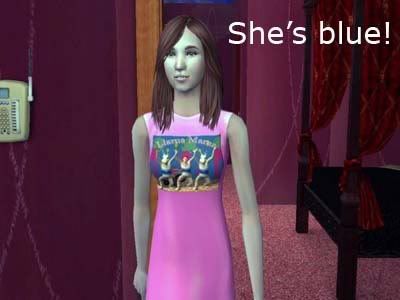 Oy poor Shaunna. Go drink some hot cocoa and then take a nice hot bubble bath. That should do the trick!
Oh lookie, we have a visitor! He's so adorable. I'm so excited, it must be the deep snow and the pond with fish that brought him around. This isn't his only visit, this is just his first.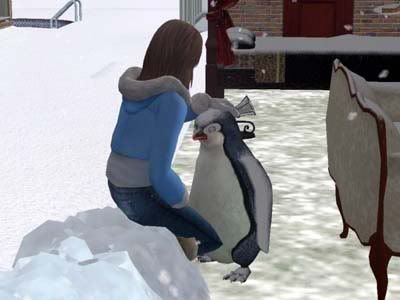 Since it was his first, I naturally had to have someone pet him. And Shaunna was more than happy to do the honors. He isn't too crazy about Winter. Winter tried to pet him once and instead he peed *giggle fits*
Now this had me rolling. After a nice visit with the snowman, the penguin left the lot. He has come several times during the winter, but I stopped taking pictures after this first time.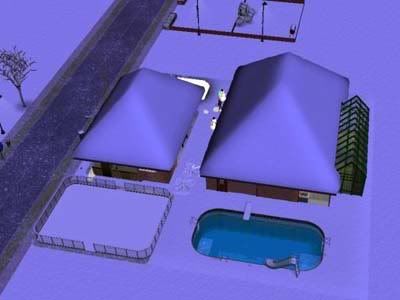 The house is lovely in the winter time. I love the snow in pictures. Not ... you know ... IRL ... ya... I'm not big on the snow... but I sure like the sims playing in it!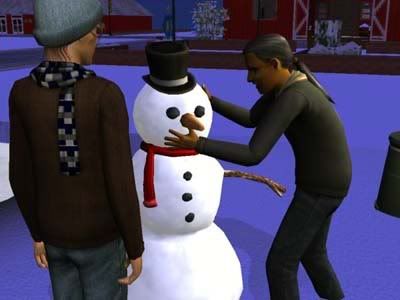 Hmmm, more snowmen.. They like doing these snowmen. I had to cancel it out several times... especially Shaunna.. after the first time of almost losing her, I wasn't risking her again!
Did you know you could turn the snowmen? Yes, well I didn't ... until about the time it looked like this.. by this time I figured what would be the point?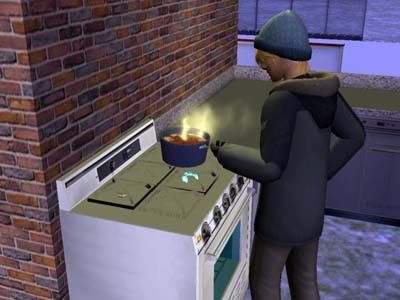 All of his possessions are covered in snow. You would think the fire would melt the snow on the stove... or when they clean the counter it would go away for a while, but it doesn't.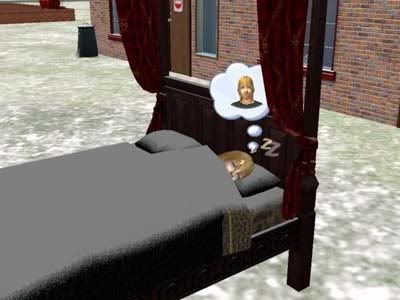 Poor Winter... even he is thinking poor him. Soon buddy... soon. Only a couple of more days.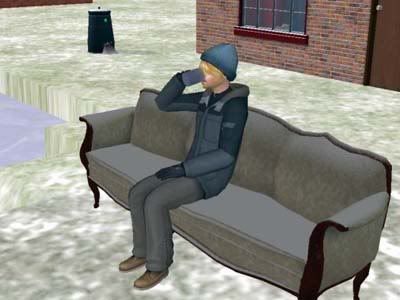 In the meantime, simply drink your cocoa and keep warm thoughts.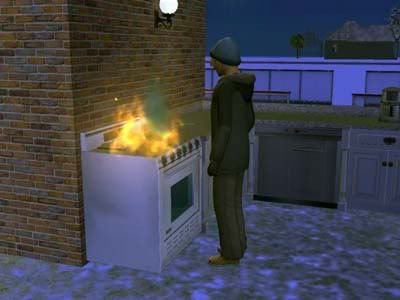 Ugh, not THAT warm! Good thing we have a fire alarm!
Oh hey our first snowball fight! Glad I finally moved that ladder. Looks like Shaunna may have gotten Fall in the face.
Oh it sure looks good, can he dodge it or does he get a face full of snow?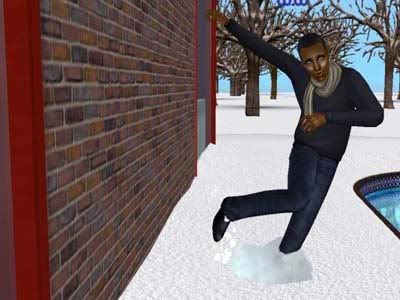 Pulling a last minute matrix move, Fall avoids the snowball to the face. Later Shaunna did manage to nail him in the gut. Well done Shaunna!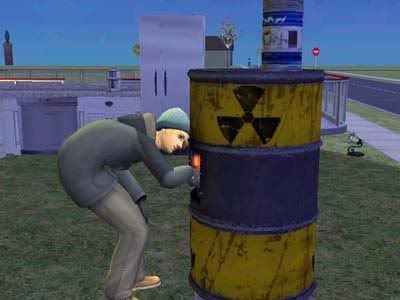 That's it, warm thoughts Winter, its almost over.. one more day.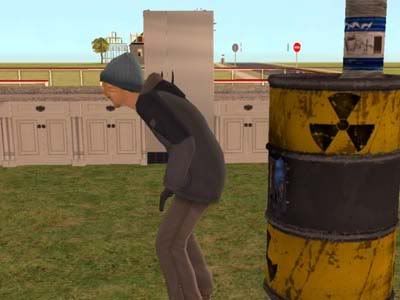 Keep that tushy warm... nice and toasty!
That's right Spring, get some rest bud, you're out here next!
Wake up Winter, its Spring! Time to go inside where its warm and cozy and safe from the elements. You earned it!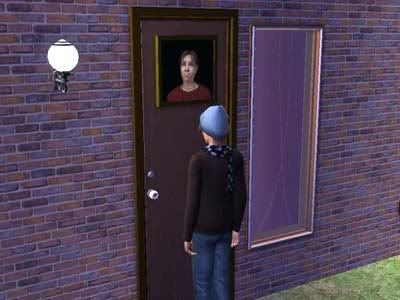 That's right Spring, take the lock off and unclaim the door. It's your turn on the lawn.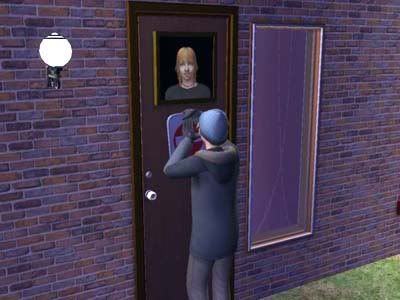 So it seems that it
is
possible for a sim to live on the lawn through winter and survive. Winter is proof enough to me that it can be done. Just have to watch his temperature and he's GtoG.
2nd Season - Spring >>